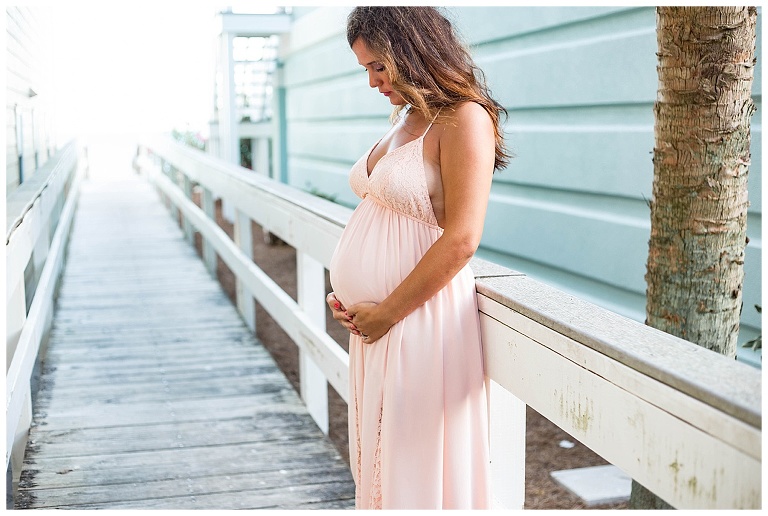 If you know us, you know we love the beach!  My little family of 3 was blessed to take a short trip down to 30A before baby #2 arrives and we stayed at my in-laws gorgeous new beach house (If anyone wants a great house to stay in right by the beach let me know)! While we were down there my sister came down with my parents as well for a few days of R&R.  It was the perfect time for some maternity shots and what is a better location than the white sandy beaches of 30A?
Here is some background on the bumps… Kamille and I are both in the wedding industry and own our own businesses, so family planning is important. You can't be a wedding photographer and have a baby during peak wedding season, and the same for wedding planners, well God had other plans.
It was my mom's birthday and we were all together celebrating at Kamille and Brennon's house.  My mom opened the gift from Millie Drew (my adorable 1st born) and it was a picture of her with a big sister shirt on.  I found out on Christmas Eve that I was pregnant and was totally shocked, "What was I going to do? I have all these weddings booked and I can't turn people away?"  So we kept the news to ourselves until I was around 11 weeks and we told the family.  Everyone was super excited, but Kamille and Brennon were being a little strange.  I thought she was mad at me because I was going to have to cancel a few weddings, but I was confused for sure.  I wanted to talk to her about this pregnancy and all that good stuff but I just kept to myself for a while until one night right before my older sister Kinsey was scheduled to have her 3rd baby boy.
I get a text from Brennon asking if he could come by and get some tools he had left at the house. I said sure and MD would be so excited to see him.  The doorbell rang and in walks Kamille and Brennon with a baby toy chest that said, "Baby Martin September 2016."  For about 15 seconds I was thinking, "Oh thats sweet they named our baby," but then it hit me! HOLY CRAP! HOLY CRAP! HOLY CRAP! Kamille and Brennon were going to have a BABY! I literally lost it, and all her weirdness made perfect sense! I was hyperventilating with excitement, and I honestly peed my pants! Yes, that really happened.
When then all got in our cars and drove to my older sister's house so they could tell them the news and we could all be pregnant together! It was such a fun night and has been such a fun and exciting season of life.  I have been pregnant with both of my sisters and can say its the best thing in the world to go through this journey with your best friends!
Kamille and I are due 2 weeks apart! She is having a little baby girl, Maddox Akers and we are having either a boy or a girl… We shall see!
I hope you all enjoy the prettiness you are about to witness!
Kamille and Maddox, you are so loved!